Positive Eugenics?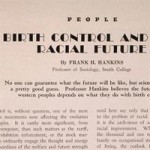 Recently a campaign by a Georgia anti-abortion group featured billboards that depicted a black baby and the text "Black children are an endangered species." [See this Associated Press article.] As you may imagine, the billboards were instantly controversial and provoked heated discussion among abortion-rights and anti-abortion activists. Motivated by the desire to promote an agenda, the group that initiated the campaign argued that abortion is linked to race, and has been since the founding of Planned Parenthood by Margaret Sanger in the early 1900s. Others say they are trying to bait African Americans into opposing abortion through shame and fear.
Population control was a key aspect of the eugenics movement. Not only did eugenicists encourage population control (both by sterilization as well as abortion) of classes of people they deemed genetically inferior, but they discouraged its application among the intellectual families that were the most likely to practice it, which was known as positive eugenics. Explore the topic "Birth and Population Control" in the Eugenics Archive to discover some of the arguments made by the eugenicists. Margaret Sanger even makes a guest appearance.
| | | |
| --- | --- | --- |
| | Print article | This entry was posted by Susan Lauter on March 9, 2010 at 4:53 pm, and is filed under Eugenics Archive. Follow any responses to this post through RSS 2.0. You can skip to the end and leave a response. Pinging is currently not allowed. |
No comments yet.

about 11 years ago - No comments
Based on a task force recommendation, the North Carolina legislature is considering paying $50,000 to living individuals sterilized by the state against their will or without their knowledge. North Carolina reportedly sterilized 7,600 individuals between 1929 and 1974. However, other American states also passed laws legalizing sterilization; the first was passed in Indiana in 1907…