Designer Babies and Fitter Families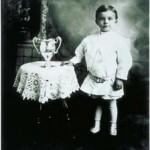 So-called "designer babies" have generated fervent discussion in recent weeks, sparked by the latest online dating trend: a sperm and egg bank with the goal to make beautiful people. For some, genetic manipulation is a moral necessity, for others it is an ethical outrage. We are reminded of the eugenics movement.
"Better Babies" contests, originally conceived to promote child welfare and physical development, were the first eugenics contests run at a state fairs (the first held in 1908). By 1920, "Fitter Families" contests were also held at state fairs, where human "stock" was judged alongside cows, pigs, and produce. Contestants completed family trait forms, were examined physically and psychologically, and were graded and awarded prizes as a result. The image below may indicate that there was even a swimsuit competition!
Visit the topics "Better Babies Contests" and "Fitter Families Contests" on the Image Archive on the American Eugenics Movement site to explore images of the movement.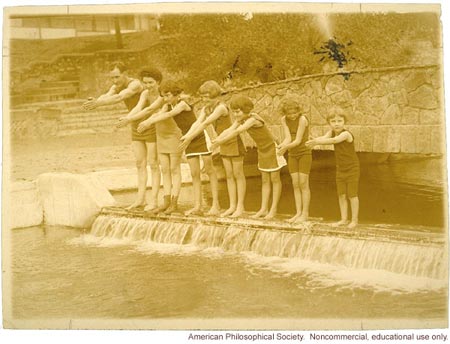 | | | |
| --- | --- | --- |
| | Print article | This entry was posted by Susan Lauter on July 13, 2010 at 11:17 am, and is filed under Eugenics Archive. Follow any responses to this post through RSS 2.0. You can skip to the end and leave a response. Pinging is currently not allowed. |
No comments yet.

about 11 years ago - No comments
Based on a task force recommendation, the North Carolina legislature is considering paying $50,000 to living individuals sterilized by the state against their will or without their knowledge. North Carolina reportedly sterilized 7,600 individuals between 1929 and 1974. However, other American states also passed laws legalizing sterilization; the first was passed in Indiana in 1907…