Eliminating Undesirable Traits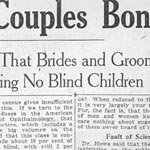 Eugenics aimed to eliminate undesirable traits. But how do you define "undesirable"? There is anecdotal evidence that the incidence of some disorders has decreased due to genetic testing (see "Testing Curbs Some Genetic Diseases," by Marilyn Marchione). In and of itself, this is a good thing, but is this eugenics? It would be hard to argue that most genetic diseases are undesirable; but some of the steps taken to eliminate disease — abortion, embryo screening — are controversial.
In contrast, there was a an effort to prevent hereditary blindness within the eugenics movement. Its proponents collected pedigrees, drafted legislation to prevent marriage of blind individuals, and surveyed ophthalmologists to assess causes of blindness and the cost to society to provide for the blind in specialized homes and schools. Their intent was to eliminate blindness in future generations. However, this was eugenics because affected individuals would not have been allowed to decide for themselves if the trait was undesirable, or what steps to take eliminate it.
Explore the Eugenics Archive, especially the "Hereditary Disorders" topic, for many examples of how eugenicists viewed inherited diseases.
| | | |
| --- | --- | --- |
| | Print article | This entry was posted by Susan Lauter on February 18, 2010 at 12:52 pm, and is filed under Eugenics Archive. Follow any responses to this post through RSS 2.0. You can skip to the end and leave a response. Pinging is currently not allowed. |
No comments yet.

about 11 years ago - No comments
For a very long time I have been using Diabetes as an example of a disorder that is caused by a mutation in the insulin gene.  This mutation would stop the cells from making insulin, and a diabetic might need daily insulin injections to regulate their sugar levels properly.  I don't know what took me…