Eugenics Word of the Day: Miscegenation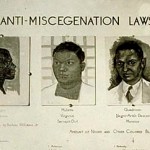 Recent news has again brought eugenics into present day politics. The GOP has decided not to endorse the candidacy in New York of Jim Russell for congress due his views published in a paper about 10 years ago. All funding, volunteers, and any other resources are being withdrawn. Russell's comments about interracial marriage are drawing the most attention:
"In the midst of this onslaught against our youth, parents need to be reminded that they have a natural obligation, as essential as providing food and shelter, to instill in their children an acceptance of appropriate ethnic boundaries for socialization and for marriage."
Almost 100 years ago, eugenicists were very concerned with race mixing. In 1913, 29 states had laws forbidding mixed-race marriages, and 22 penalized for miscegenation — with fines and/or prison terms. Eugenicists actively supported the strengthening of old laws and the enactment of new ones such as the Virginia Integrity Act of 1924, which prohibited marriage between a white person and anyone with a trace of blood other than Caucasian. It took until 1967 for these laws to be dissolved.
Visit the Eugenics Archive and explore the "Race Mixing and Marriage Laws", "Mate Selection and Counseling", and "Race and Ethnicity" topics, which are sadly rich with examples of these beliefs.
| | | |
| --- | --- | --- |
| | Print article | This entry was posted by Susan Lauter on September 24, 2010 at 10:52 am, and is filed under Eugenics Archive. Follow any responses to this post through RSS 2.0. You can skip to the end and leave a response. Pinging is currently not allowed. |
No comments yet.

about 11 years ago - No comments
Based on a task force recommendation, the North Carolina legislature is considering paying $50,000 to living individuals sterilized by the state against their will or without their knowledge. North Carolina reportedly sterilized 7,600 individuals between 1929 and 1974. However, other American states also passed laws legalizing sterilization; the first was passed in Indiana in 1907…