Health Care and Eugenics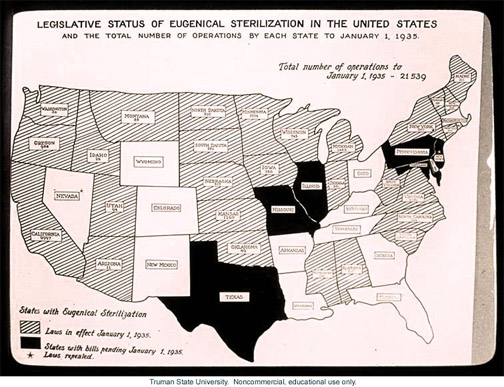 Health care is the burning topic these days. Accusations are flying against government initiatives including terms like sterilization, Nazi, and eugenics.
Are these fair characterizations? Decide for yourself by exploring several topic areas in the Eugenics Archive that may sound as if they were discussed at the latest town hall meeting: Birth and Population Control, German/Nazi Eugenics, and Sterilization Laws. Once in the Archive, choose to browse by topic to read the topic essays and view the associated images.
| | | |
| --- | --- | --- |
| | Print article | This entry was posted by Susan Lauter on July 16, 2009 at 2:42 pm, and is filed under Eugenics Archive. Follow any responses to this post through RSS 2.0. You can skip to the end and leave a response. Pinging is currently not allowed. |
No comments yet.

about 11 years ago - No comments
Based on a task force recommendation, the North Carolina legislature is considering paying $50,000 to living individuals sterilized by the state against their will or without their knowledge. North Carolina reportedly sterilized 7,600 individuals between 1929 and 1974. However, other American states also passed laws legalizing sterilization; the first was passed in Indiana in 1907…