It's All Your Parents' Fault
Eugenicists looked at a diversity of "traits" and asserted that many of them were genetically inherited, excluding any other cause. The subjects of the studies often came from unique populations, including circus performers, residents in mental institutions, and even historical figures, long deceased.
A quick search in the Eugenics Archive reveals some of the traits studied by Eugenicists:
Civic leadership
Musical ability
Dressmaking
Epilepsy
Dwarfism
Giantism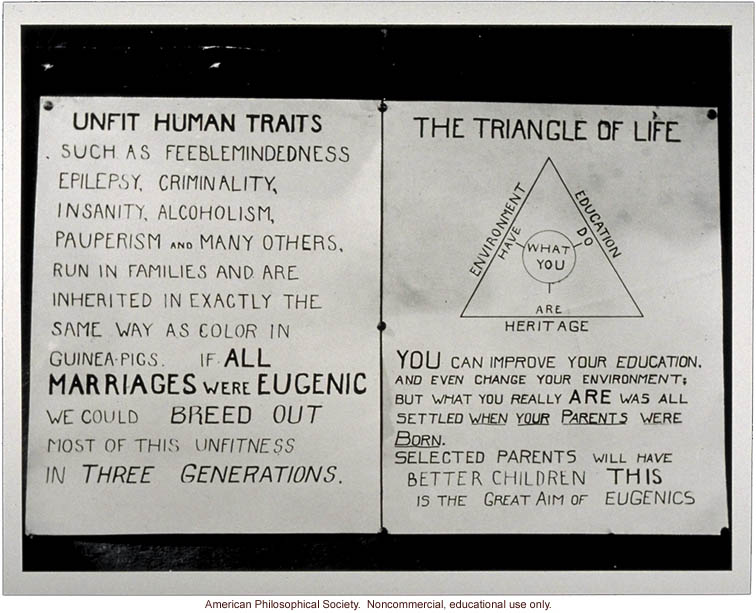 Carpentry
Deafness
Eye color
Insanity
Longevity
Shiftlessness
Cancer
Blindness
Albinism
Hemophilia
Boat building
Degeneracy
Poverty
Feeblemindedness
Cleft palate
Hare lip
Manic depression
Hair color, texture
Polydactyly
Height
Literary ability
Inventiveness
Color blindness
Mechanical skill
Artistic ability
Alcoholism
Thalassophilia (love of the sea)
Eugenicists failed to recognize that not all familial traits are biologically inherited, or that traits that are inherited can have complex causes. They did not consider that in addition to genes, families share customs, work environments, and eating habits that can affect their physical, mental, and emotional development.
Reading over the list, it is evident that Eugenicists were on target with some of their assertions. In my personal experience, my husband has long suffered from Thalassophilia, but my children have yet to express that trait. It must be recessive.
For further exploration:
From the Archive: Traits Studied By Eugenicists by Jan Witkowski, Cold Spring Harbor Laboratory
DNAftB Concept 14: Mendelian genetics cannot fully explain human health and behavior.
| | | |
| --- | --- | --- |
| | Print article | This entry was posted by Susan Lauter on September 15, 2009 at 1:58 pm, and is filed under Eugenics Archive. Follow any responses to this post through RSS 2.0. You can skip to the end and leave a response. Pinging is currently not allowed. |
No comments yet.

about 11 years ago - No comments
Epigenetics is the study of chemical reactions that control the on and off switch of genes at specific times and the factors influencing them. Environment is a factor that influences epigenetic change which may encompass behavior, stress or diet. The easiest of the three to make observations from is diet. When we think of food,…