Bad Cholesterol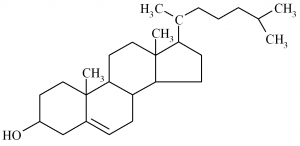 When someone mentions cholesterol many will say, how is your HDL? Cholesterol travels through the blood attached to lipoproteins. From a health prospective we try to maintain the good cholesterol (High density lipoproteins or HDL) and decrease the bad cholesterol (Low density lipoproteins or LDL). The HDL aids the body in removal of bad cholesterol in the blood whereas LDL causes build up of plaque within arteries restricting blood flow and hardening of the arteries that may result in heart disease. Control of cholesterol levels is through a number of ways such as low cholesterol diets, weight loss and drugs.
Cholesterol is a crucial fat-like substance produced by the liver that is required for bodily functions. It is the main sterol synthesized and transported in the blood plasma of all animals. Cholesterol is responsible for a number of functions such as:
1. Building and maintenance of the cell membranes
2. Production of sex hormones (androgens and estrogens)
3. Production of bile
4. Metabolism of fat-soluble vitamins, including vitamins A, D, E, and K
5. Insulation of nerve fibers
6. Conversion of sunshine into vitamin D
Cholesterol being a crucial part of our development can have a dark side. The gene DHCR7 (7-dehydrocholesterol reductase) found on chromosome 11 is responsible for the production of cholesterol and mutations in the gene may lead to a metabolic disorder known as SLOS (Smith-Lemli-Opitz Syndrome). This disorder currently occurs once out of every 20,000 births. Individuals with SLOS are unable to produce enough cholesterol to support normal growth and development. This leads to developmental delays, physical malformations, mental retardation and issues with major organs such as the heart. Currently the only treatment for the disorder is cholesterol supplementation to improve growth and developmental progress.
SLOS is inherited in an autosomal recessive pattern, basically both copies of the gene within a cell are mutated. This identifies that the parents of a person with SLOS each carry a mutated copy of the gene, however they do not have any symptoms or signs of SLOS. It may be that genetic counseling may be one form of a preventative method for the disorder. This brings up a great question, should genetic counseling be mandatory for potential parents to decrease transmission of severe genetic disorders?
No comments yet.
No trackbacks yet.
about 10 years ago - No comments
Your brain is a complex, highly organized organ. Each mammalian brain is made of approximately 10-15 billion nerve cells, called neurons. And each brain is built of thousands of different types of neurons, called neuronal subtypes. Neurons have the amazing ability to gather and transmit electrochemical signals, the more neurons the faster signals can be…

about 11 years ago - No comments
Mobile chunks of DNA that walk their way from one position in the genome to another may affect neurological diseases and could have subtle influences on normal brain function and behavior, according to a recent study in Nature. Alu is an example of a so-called "jumping gene" – a transposable DNA sequence that "reproduces" by…

about 11 years ago - No comments
After asking students during a lesson on mutations if it is possible that a mutation in DNA could be good, most students will nod yes without much understanding.  Recently, I finally had one student raise his hand immediately and answer the question (with extreme surprise that no other students were blurting out the answer)…"evolution!"   He…

about 11 years ago - No comments
It's the season of hibernation, something I've always wished I could do.  Oh, to wrap up in a ball, sleep away the winter, and wake to a beautiful spring day – like Bambi!  Although the thought has always intrigued me, it never really occurred to me what a feat hibernation actually is.  It turns out…

about 11 years ago - No comments
How is drug development moving along? Well, this is a very good question for we are still plagued by some elusive diseases, cancer for example. There have been many drugs developed targeting proteins involved in disease states some of which have proven to be quite effective. However today the steam engine for identifying drug targets…

about 11 years ago - No comments
One of the biggest challenges facing cancer researchers is that the disease varies so much from person to person. Even the same type of cancer – lung, brain, breast, colon, and so on – can be subtly different. This means that a therapy that works well in one patient may have no effect in another.…

about 11 years ago - No comments
In 1994, there were more than 2.2 million serious medical cases, and over 100,000 deaths from negative reactions to prescribed drugs.  (NCBI)  These numbers have made adverse drug reactions one of the leading causes of hospitalization and deaths in the US.  Currently, there is no easy way to determine how a patient is going to…

about 11 years ago - No comments
When we think of a detective the first thing that comes to mind is an investigator, either a member of a police agency or a private entity.  However there are unique detectives within the multifaceted arena of medicine.  All though we might already think of most doctors as detectives there are special doctors, units, working at…

about 11 years ago - No comments
Autumn is my favorite season.  I enjoy the cool weather, unpacking my sweaters from the attic and sleeping under my cozy comforter.  But better than all of the above are the fantastic red, yellow and orange leaves that adorn the deciduous trees here in New York.  Before I worked at the DNA Learning Center, this…

about 11 years ago - No comments
I asked a group of 5th graders the other day whether or not we can learn anything from studying other living things.  For example, if we mutate or change the DNA of another organism, like fruit flies (D. melanogaster), can we learn anything about what can happen when human DNA changes?  For this particular class,…