DNA Authentication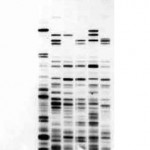 While recent advances in DNA technology have revolutionized the field of forensic science, it also makes us question whether or not the evidence at a crime scene is genuine. Basic techniques such as PCR, molecular cloning, and the most recent whole genome amplification, allow for someone to synthesize DNA under any genetic profile in vitro. This artificial DNA can then be implanted into human tissues or placed on the surface of objects, and planted at a crime scene. Current forensic procedure cannot distinguish between artificial and natural DNA samples.
The company Nucleix is now offering a tool to distinguish between natural and artificial DNA, based on the fact that natural DNA has areas that are consistently methylated. This is when methyl groups attach to areas of the DNA to inhibit gene expression in animal cells. Artificial DNA is completely unmethylated. I wonder how long it will be until someone synthesizes methylated DNA in vitro.
| | | |
| --- | --- | --- |
| | Print article | This entry was posted by Jennifer Galasso on September 2, 2009 at 9:11 am, and is filed under DNA Interactive. Follow any responses to this post through RSS 2.0. You can skip to the end and leave a response. Pinging is currently not allowed. |
No comments yet.

about 11 years ago - No comments
Lying dormant in our genomes are millions of jumping genes. Originally discovered by Barbara McClintock, transposons are DNA sequences that can move from one location to another in our DNA. Transposons cause mutations when they jump to new locations, so keeping them from jumping is important. However, although transposons are largely silent, every person probably…